Director ICT Systems and Security at FIA Speaks At The NITAU Cybersecurity Awareness e-Conference
The Director ICT Systems and Security at the Financial Intelligence Authority (FIA), Mr. Cyrus Barigye, was hosted as a guest speaker / expert on financial risks associated with cybersecurity at the National Information and Technology Authority (NITAU) on Thursday 4th November 2021 under the theme Be Safe Online. 
Areas of discussion included technical, organizational and governance standards relating to identity and information technology security for systems, particularly Anti Money Laundering (AML) tools.
Mr. Cyrus Barigye noted that large scale digital financial systems that do not meet appropriate assurance levels pose cyber security risks, including allowing cyber-attacks aimed at disabling broad swaths of the financial sector.
He added that this also poses major privacy, fraud or other related financial crimes risks, because cyber security flaws can result in massive identity theft, compromising individuals' personally identifiable information.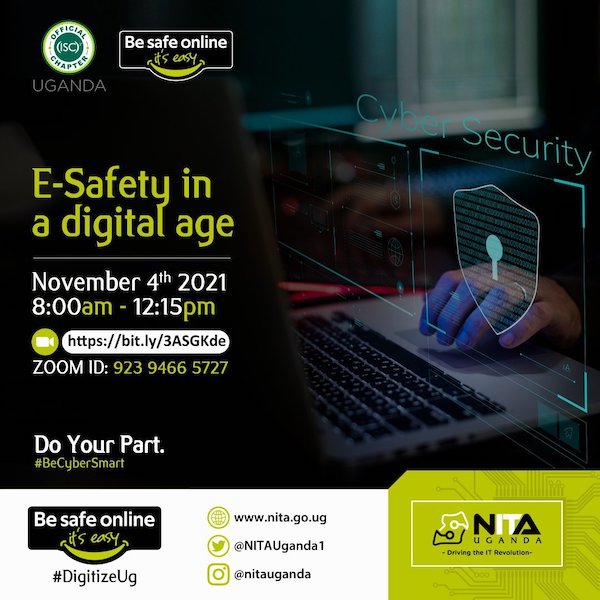 Risks related to governance, data security and privacy also have an impact on AML/CFT (Anti-money laundering /Combating the Financing of Terrorism) measures. Advances in technology and well-designed identity proofing and authentication processes can help mitigate these risks.
Mr. Cyrus Barigye further gave guidance on how systems could be used to comply with specific AML/CFT requirements under standards to enable the safeguarding of the integrity of the financial sector.
Other areas of discussion by Cyrus included:
Remote working cybersecurity financial risks.
Evolution of the Internet of Things (IoT).
The rise of ransomware in financial institutions.
Increase in cloud services and cloud security threats.
How social engineering attacks are getting smarter.
Data privacy and security as a discipline.
View the entire conference here: https://www.youtube.com/watch?v=NT9y_u8tBUU